A beautiful smile for your whole family!
At FUNtastic Dental, we don't just care for children's teeth. We also offer family orthodontics. Let's briefly discuss what can work best for you. Children's braces can occur in 2 phases, depending on their needs.
Phase I
Phase I is often called "interceptive" treatment and can start as early as 6 to 8 years old, and can last 12 to 18 months.  At this age, 12 of the 32 permanent teeth are present.  This is prime time to address harmful issues such as jaw discrepancies, thumb-sucking, crowding and "buck teeth," because the child is growing quickly and adjustments can be made now.
Phase I usually does not eliminate later treatment for permanent teeth.
Between Phase I and Phase II, removable and/or fixed "appliances" (retainers) are used to guide the eruption of any permanent teeth during this time.  Observation visits every 3-6 months help us monitor your child's progress.
Retainer insurance is available!  A lost retainer is a huge source of concern (and frustration) for our parents. With retainer insurance, $250 buys you one whole year of the peace of mind that a lost retainer will only cost $35 to replace!  Contrast that with the out of pocket $200 to replace a retainer EACH time your child loses it, without retainer insurance.  This could easily save you hundreds of dollars (and a lot of resentment and digging through garbage cans.)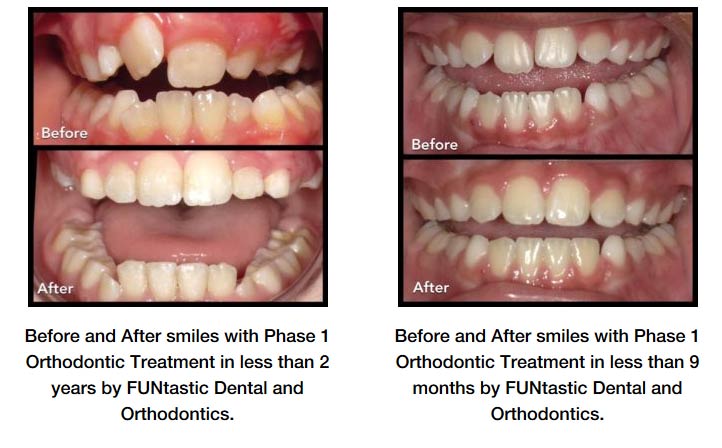 Phase II
Phase II is often called "definitive" treatment.  With only a few remaining baby teeth, this phase usually begins between ages 10 and 12, but people of all ages are finally giving their teeth the attention they deserve. These braces are used to develop a proper bite and achieve your best smile.
We offer three options for braces: traditional metal braces, ceramic braces and Invisalign aligners.
Metal braces are made of high-quality stainless steel and sometime use custom-colored elastics (rubber bands) for a playful smile.
Ceramic braces have brackets made of clear material, yet still have a visible wire.
Invisalign aligners are removable, invisible trays that you only take out for meals and dental hygiene.
All 3 types have distinct advantages and disadvantages.  Come in for your FREE consultation with Dr. Anita Bhavnani, D.M.D., M.S. and see which choice is right for you!